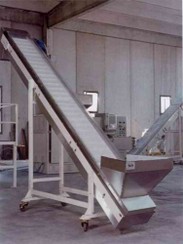 ELEVATING CONVEYOR
It consists in a cleated belt made of plasticized canvas and a supporting structure in welded painted steel on pivoting wheels for an easy displacement.
Feed hopper and discharging chute made of stainless-steel It is driven by electric motor with reducer and drive rollers.
This conveyor conveys the product from the up-stream machine to the down-stream machine

SCREW CONVEYOR
This conveyor is specially suitable to convey sticky products and an be positively coupled with high-volume mixers. It consists of:
- Two stainless steel (S/S) screws
- S/S main trough
- S/S infeed hopper and discharge chute

SLUG EJECTOR CONVEYOR
For fully continuous and automatic finishing line operation a "slug ejector conveyor" is advisable between the Cutter and the Press.
This independently driven conveyor has two control photocells and a pneumatic deflection flap.
If the plodder's extrusion rate exceeds the stamping rate, the photocells signal the deflection flap to eject the extra slugs on the recycle conveyor.

TURN-OVER BELT CONVEYOR
This conveyor conveys the stamped soap bars from discharge conveyor of the up-stream stamping machine to the infeed conveyor of the down-stream packaging machine. During the transfer, thanks to a pair of spiral belts, it turns-over each soap bar so that at the outlet they are up-side-down in respect to the inlet.
Thanks to the continuous motion and the special turning system, the stamped soap bars are not damaged during the operation.

90° AND S CURVE CONVEYOR
The curve conveys the stamped bars from the discharge conveyor to the tilting conveyor.
The curve has a plastic chain and it is complete with adjustable side rail.
It is driven by a motor controlled by a frequency inverter in order to vary the speed according to the production rate.

METAL DETECTOR CONVEYOR
System for the detection of metals in extruded cut or stamped toilet soap to be put in a finishing line. Maximum soap temperature must not exceed 45°C.
It detects ferrous and non-ferrous metals including stainless steel.
It is controlled by a digital microprocessor, the operation is on multi-frequency.
Water-proof touch panel.

DIE AND WATER CHILLERS
Metal works
- Frame in galvanized sheet, stove-enameled with polyurethane powders
- Bearing foots for fixed installation
- Frame is made in anodized aluminium profiles
- Panels in galvanized steel, stove-enameled with polyurethane powders
- Stainless steel fixing screws
Refrigerant circuit
- R404a refrigerant gas charge and compressor's oil charge
- High efficiency semi-hermetic compressor complete with oil heater.
- Oversize condensing coil (Cu/Al), protected by accidental crash, special for hot ambient temperature working
- Axial fan with blades haul profile and bearings free from servicing, oversized for hot ambient temperature working.
- Automatic condensing pressure control with fan seedy regulation.
- Refrigerant filter with mechanical and dehydrating action
- Liquid sight-glass with colour-change indicator for checking gas charge and humidity
- Welded inox plate evaporator externally insulated - "NO FROST" evaporator internally assembled into steel storage water tank externally insulated
- High pressure switch and Low pressure switch
Hydraulic circuit
- Big storage solution tank externally insulated
- Centrifugal pump with special mechanical seal for low temperature working.
- Solution-Water pressure gauge for the quick displaying of the outlet pressure
- Differential pressure switch
- Open expansion tank, installed, for hydraulic circuit manual filling.
- Drain valve.

DOSING UNIT
It is complete of load cell dosing tanks for adjustable dosing capacity, made of stainless steel.
Circuits made of stainless steel complete of solenoid valves for feeding, discharging and recycling of product.
The units are installed on a supporting structure of painted structural steel.
The high precision dosing system is controlled by an electric control board which allows the fine adjustment of the liquids to be dosed.
The control board is wired according to international standards.
It is complete of analogical instruments for the calibration and set-up of the liquid quantity to be dosed.